"Musical Infusion" with Judith Sainte Croix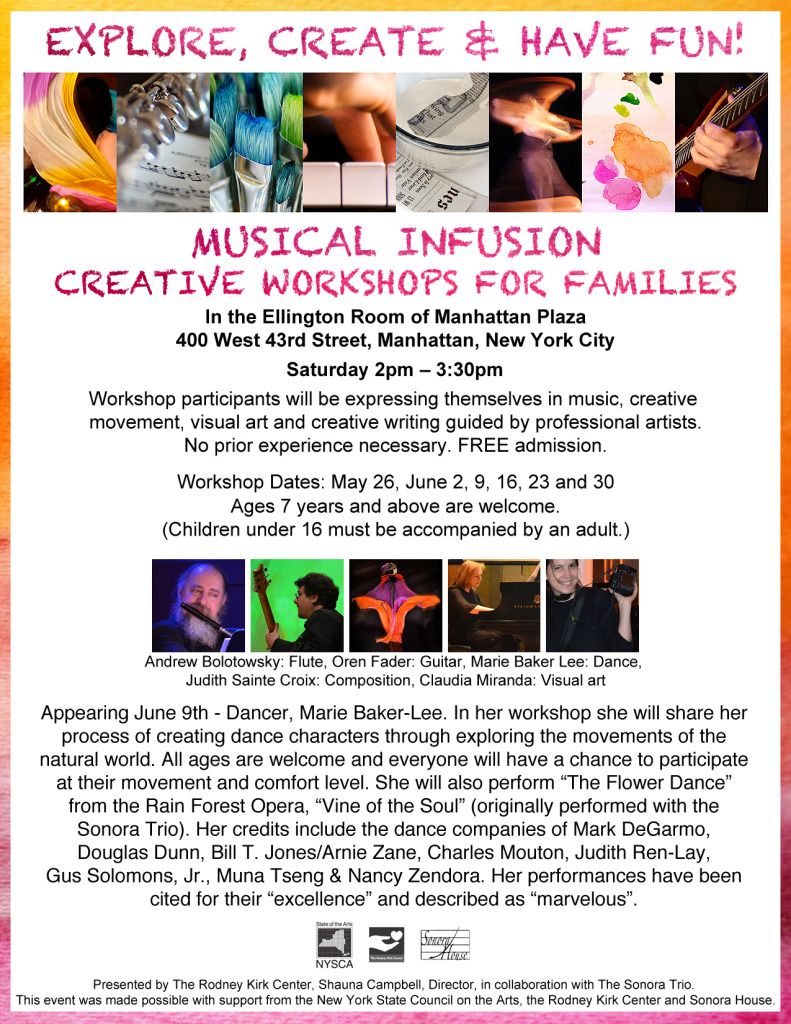 We love to keep up with our previous composers-in-residence. Today we spotlight 2010 composer-in-residence Judith Sainte Croix and her upcoming "Musical Infusion" family workshop series at Manhattan Plaza.  A prolific composer of opera, chamber, orchestral and electronic music, Judith will be sharing her prodigious talents by hosting this FREE series of family workshops each Saturday in June. Each workshop will feature performances by members of Judith's Sonora Trio, and include plenty of time for all kinds of creative fun – music, visual art, writing and movement. No prior is necessary to participate! So whether you're young, old or anywhere in the middle, grab some friends and head over to the Ellington Room at Manhattan Plaza starting tomorrow, June 9th.
As an added bonus – Marie Baker-Lee of Mark DeGarmo & Dancers will perform The Flower Dance from Judith's "Vine of the Soul," which was developed during Judith's residency at Turtle Bay Music School.
Workshop Dates: June 9, 16, 23 and 30
Time: 2:00 – 3:30pm
Location: Manhattan Plaza's Ellington Room, 400 West 43rd Street, Manhattan
Cost: None, they're FREE!